Ben Myers - Singer-Songwriter, Indie/Rock/Pop and Folk
Press
"Myers is a brilliant song-crafter with real textures that pull you in and hold you close." - Global Texan Chronicles
"All of the songs on Daylight Moon have a great melody... something instinctive that no amount of practice can generate. You've either got it or you haven't and on Daylight Moon, Ben Myers proves beyond any doubt that he's got it in abundance." - Rated Sound
"Daylight Moon is awesome! There is a clarity and depth to his lyrics… a feeling of truth." – Stuart Saffery, Channel Radio UK

"…dreamy, ethereal, and beautiful. His music reflects on the different aspects of life, love, and frustration." – Sound Waves, Music Blog

"There is something about the melodies he writes that makes you think of Elliott Smith." – No More Division

"Myers's voice is sexy and charming resembling a Yorke/Foster manchild, which is definitely a plus. … the instrumentals sway magnificently with voice." – Sputnik Music

"He captures the mystery of the nature of songs in their boneless, yet, so powerful existence." – Ours Magazine

"He's got one of those sounds that feels like a peaceful Fall night. This music is literally for everyone… a calming break to clear your mind and go to a peaceful place." – Samantha Pollard, Music Blogger
If you'd like, you can join as a member and get free music and other cool stuff too. New members can immediately download my "The Best" album for free! Members also get exclusive access to the Member Section where you can watch video blogs, hear new song demos, and exchange ideas with me. Look for the password included with the download and in my occasional email newsletter... and I promise, no spam. Cheers!
A BRIEF HISTORY 
Hi! My name is Ben Myers and I am a singer-songwriter from Kansas. I write mellow rock songs with an edge. I wanted to share with you a little story of my music.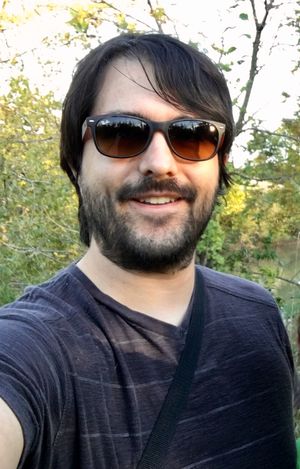 I've always been interested in music. At an early age I would grab my Mom's guitar and try to pluck out the notes to "Heard it through the Grapevine" and "Smoke on the Water". I could hear the music in my head and was able to find the right notes. I knew I had an ear for music when the school music teacher asked me to play the Star Wars theme in front of the class one day. I had learned it all by ear. I earned some respect from my schoolmates for that one. My Mom played a lot of piano back in those days and she always played an incredibly enchanting song. I had to learn it! Soon she taught me the notes and I was playing it all the time. That song was called "Fur Elise". 
As I grew into a teenager, I was playing more and more guitar. Alternative rock was big and I would try to pick up songs from Nirvana, Pearl Jam, and Nine Inch Nails. I was also really interested in the Eric Clapton Unplugged album and tried to learn "Layla". Around the time I turned 16, I broke my ankle playing basketball and was sidelined for the rest of the season. I couldn't move very well and found myself sitting at the piano using chords from "Fur Elise" to come up with some of my original music. The next several months allowed me time and the confidence to realize I was becoming a songwriter. I continued my obsession with the guitar and piano throughout the rest of High School. 
My college years were symbolized by 1 thing for me, my newfound obsession with The Beatles. Yes, I had not discovered the 60's British rock band until later, which I think was a good thing because it helped me appreciate them even more. I began covering their songs and was also writing my own at this time. It wasn't until after college that I started to put my original songs onto albums. My earliest albums were a great experience for me! If you're curious about them I just put up a video about each of them in some detail in the Member Section. 
It wasn't until I started working at a pizza restaurant that I found the connections I would need to inspire me to professionally record my "1st" album. I had songs floating around for a while now and I was able to contract the help of an audio engineer to bring my "In Persona" album to life. The single "Motorcade" has some notable Lennon influence in it. "Motorcade" also saw a fair amount of college radio play in my area, something that was incredibly exciting for me! 
My follow up album, "Ninth" was my homage to those alternative rock bands from the 90's with some harder rocking songs... mixed with a few sweet ones as well. This album saw me getting together my first music video, "Send Me Away".
"Daylight Moon" is the album I'll probably be remembered for. This one is really about longing and love. It's a concept album of sorts which tells a story as the album progresses. "We'll Never Know" is a true heartache love song. 
My fourth album "Portrait" is the deep tracks album, quiet and all acoustic. As I was writing these songs I kept thinking about how intense they felt, how personal they felt. This is a healing album. Check out the sweeping love song of "Intrigued".
Dreams and dream analysis are large motivations behind my music. Dreams can be so emotional and weird that they lend for some pretty interesting songs. I'm also very interested in the interpersonal struggle that we all go through, the reality of relationships, you might say. I suppose I'm a bit of a romantic as well. 
As I move forward I realize how music has really defined my life. I place my self-worth, in part, on the kind of songs I'm writing. My wish is that my music will find the people who "need" it the most, and that they can be helped by it. It's certainly therapeutic for me to write the songs. Maybe they will help someone too. 
If you're enjoying the songs you're hearing, I hope you'll consider becoming a member. All of the songs I've mentioned from my studio albums are available on my site and on streaming services. Stick around because I have a lot of fun stories to tell!
Thanks, and hope to talk soon! 
Kind regards, 
Ben